This striking clock has been made using an assortment of spark plugs used in various bikes. The back plate is from a Japanese number plate mounting bracket. The center is made using a rear wheel bearing from a Kawasaki ZX-7R.
Finished in a metallic blue to emphasise the blue lettering on the NGK plugs.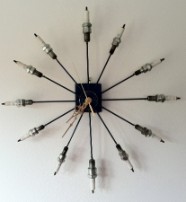 This is a piece I made for someone for their sisters birthday.
I was told she liked nature, shiny things and unique objects.
This is what resulted.